GET

PROTEGO

– GET PROTECTED! 
A new study** shows PROTEGO can reduce
detectable radiation by 98.6 to 100%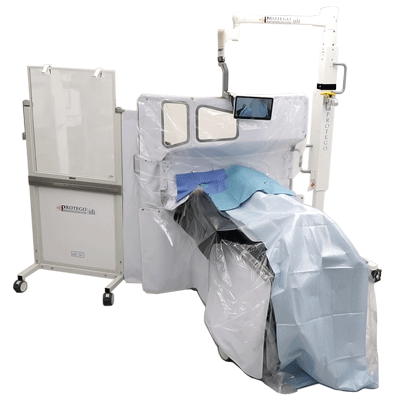 EXCERPT
A clinical comparative study at HonorHealth Research Institute shows a substantial drop in laboratory radiation, with most cases producing undetectable radiation exposure to cardiology staff.
In nearly 70% of the cases, radiation exposure to the physicians and nurses was so low as to be "undetectable" using real-time dosimetry.
Sources:
**Catheterization and Cardiovascular Interventions
A novel comprehensive radiation shielding system eliminates need for personal lead aprons in the catheterization laboratory
Maher Rabah, Sorcha Allen, Amr E Abbas, Simon Dixon
Department of Cardiovascular Medicine, Beaumont Hospitals, Royal Oak, Michigan, USA.
PMID: 36453459 DOI: 10.1002/ccd.30490 https://pubmed.ncbi.nlm.nih.gov/36453459/
Journal of the Society for cardiovascular Angiography & Interventions (JSCAI)
Comprehensive Radiation Shield Minimizes Operator Radiation Exposure and Obviates Need for Lead Aprons David G. Rizik, MD, Robert D. Riley, MD, Robert F. Burke, MD, Sabrina R. Klassen, Ariana M. Nigoghosian, Kevin P. Gosselin, PhD, James A. Goldstein, MD  Published: March 21, 2023 DOI: https://doi.org/10.1016/j.jscai.2023.100603
98.6% to 100% radiation reduction
in the Cath lab based on real-time dosimetry
Protect your entire team! PROTEGO provides the largest area of protection
Pans with table
The flexible design allows for steep angles in caudal, cranial, and LAO/RAO
Minimal workflow interruption – Set-up in less than 3 minutes
Very easy to remove in emergent situation
The PROTEGO shield's shape and flexible attachment allow for angles 45° and greater simply by moving your C-arm into position
Radial, jugular, and groin access
Easy access to your patient
Operating area is open, free from obstruction
Low cost per procedure